Alkaline steppes of the project area were damaged by the intensive agriculture practice of the 1950ies with building of grassland irrigation systems and rice-systems. These unused and abandoned infrastructures have fragmented the native grassland, altered the characteristic surface micro-topography of the area and forms an obstacle to local run-off. As natural processes (surface water movements) maintaining originally the alkaline steppes and marshes are blocked by these structures, continuous degradation proceeds.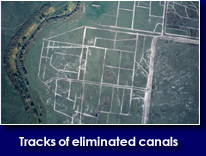 The water management installations of unused paddies and irrigation systems are very good hiding-places for foxes and the dike systems offer good place for burrows. On the project area the fox is the most significant factor responsible for low reproductive success of Great Bustard.
The project aims at eliminating those artificial factors causing degradation, hereby to restore the biological diversity of grasslands, ephemeral waters and marshes. This is the only possibility to ensure long term conservation of flora and fauna of this priority habitat type.